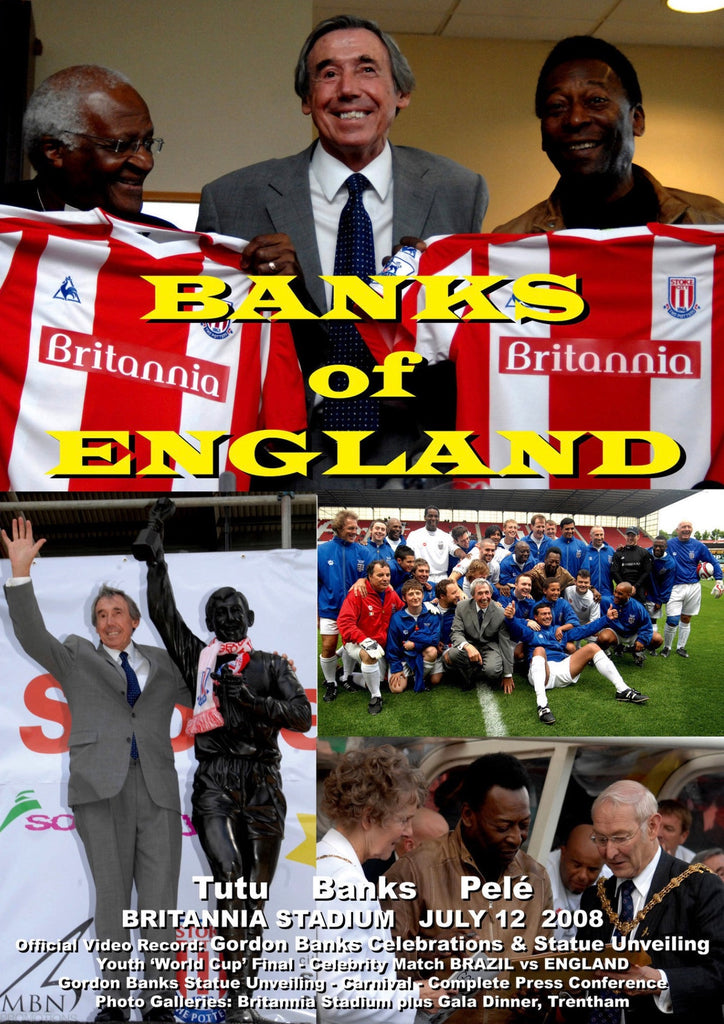 BANKS OF ENGLAND - Download Version
$16.00
The great Pelé, Archbishop Desmond Tutu and Gordon Banks OBE – all together at this unique occasion at the Britannia Stadium on Saturday July 12th, 2008.
This two-hour programme is the official Video Record of the event, enjoyed by thousands of people. These were the celebrations of the achievements and career of Gordon Banks – leading up to the unveiling of a new statue of him.
All the key events of the day are here - the Youth 'World Cup' Final, with cups presented by Gordon Banks and Pelé, the Celebrity Match BRAZIL vs ENGLAND with teams of soccer stars and media celebrities and celebrity Managers Desmond Tutu, Pelé, Gordon Banks and actor James Nesbitt.
And, of course, the Gordon Banks Statue Unveiling – with the Carnival preceding it and the key speeches from Pelé and Desmond Tutu. There are interviews with Gordon Banks, James Nesbitt and other celebrities – plus sculptor Andy Edwards.
In addition, on the video are the complete Press Conference and the Celebrity Press Conference, plus Photo Galleries of events at the Britannia Stadium and the Gala Dinner held at Trentham Gardens.
This video will be sent by WeTransfer to download.