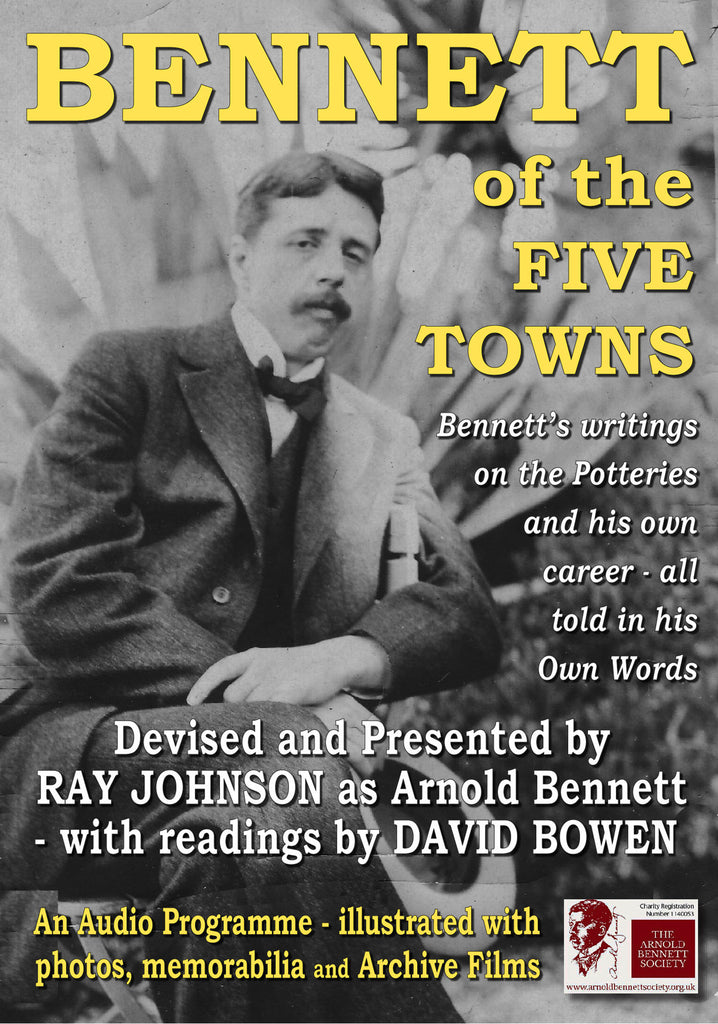 BENNETT OF THE FIVE TOWNS
$15.00
"Bennett of the Five Towns" is an insight into Arnold Bennett's relationship with the Potteries and his writing career up to his final "Five Towns" book in 1916 - all told in his own words from contemporary essays, letters, journals and his novels and short stories. It is devised and presented by RAY JOHNSON, speaking as Arnold Bennett, with readings from his works by DAVID BOWEN. The programme engages the ear with Bennett's astute observations and wonderful writing and it is illustrated throughout with relevant photographs, visual memorabilia and archive film footage.
There are five parts:
Part 1: UNDERSTANDING US - introduces us to his views on the history, nature and character of the Potteries and its principle industry of making pottery.
Part 2: EARLY DAYS and EDUCATION looks at his home life and education growing up - to leaving the Potteries for London when he was 21.
Part 3: WRITING and the struggle for "ANNA" looks at his early career in London and the struggle to write and achieve his first successful novel "Anna of the Five Towns" in 1902, then a visit home and a night at the Grand Theatre, Hanley.
Part 4: PARIS: THE OLD WIVES' TALE and THE CARD sees him living in Paris, the writing of "The Old Wives' Tale" - which brought him international fame - and what is probably his most popular novel: "The Card". ADDED EXTRA: a filmed visit to the very house where he wrote The Old Wives' Tale, a plaque unveiling by Bennett's grandson Denis Eldin and a personal tribute to camera by special guest Gyles Brandreth.
Part 5: FEDERATION and the GREATER IDENTITY - is a summing-up of the Potteries' achievements coming into the 20th Century and their new "greater identity" with the Federation of the towns into one County Borough in1910.
77 minutes:  £10 + £1 p&p = £11
Produced by Staffordshire Film Archive for the Arnold Bennett Society